"Created Equal: America's Civil Rights Struggle" film series is back!
Presented by The Charles H. Wright Museum
Hosted by The Rosa and Raymond Parks Institute for Self Development
When: March 15th, 2015
Where: Charles H. Wright Museum
315 East Warren Ave, Detroit 48201
Time: 6-9pm (General Motors Room)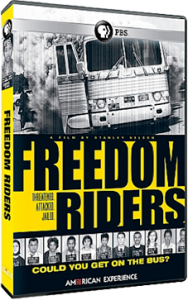 Freedom Riders were civil rights activists who rode interstate buses. The segregated southern United States in 1961 and following years to challenge the non-enforcement of the United States Supreme Court decisions which ruled that segregated public buses were unconstitutional. The movie tells the terrifying and suspenseful story of a time when white and black volunteers riding a bus into the Deep South, risked being jailed, beaten or killed.
 For additional information, please contact us at:
 The Only Organization founded by Rosa Parks to continue her legacy
National Office
535 Griswold Street, Suite 111-513. Detroit, Michigan 48226
Phone: 313. 965. 0606
Email: general@rosaparks.org
Website:  www.RosaParks.org