APRIL 26TH, @3:00pm
Mrs. Althea T. Thomas will be honored for her 60 years of service as Organist of Dexter King Memorial Avenue Baptist  Church, where she started her playing under Reverend Dr. Martin Luther King Jr. and still plays today.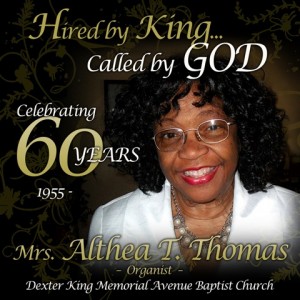 RESOLUTION
HONORING MUSICIAN AND EDUCATOR ALTHEA THOMPSON THOMAS
WHEREAS,            Althea Thompson Thomas was born in Montgomery, Alabama, the youngest of two siblings, sister Gwendolyn Thompson Ligon, to the union of H.O, Thompson and Faustine Hilliard Thompson. Her father, Mr. 0. Thompson, renown in his own right as a composer, choral director and Trombonist, exposed both Althea and Gwendolyn to piano, orchestral and Organ scores as soon as they could walk. Althea began playing the Organ and piano for churches as a pre teen and has continued to do so for more than sixty years. As a musician, organist, mentor, composer, poet, painter, scholar and author, we honor Althea on this day for her many contributions.
WHEREAS,         Althea is the only Organist ever hired by Martin Luther King, Jr., during his historic time as Pastor of Dexter Avenue Baptist Church, sixty years ago. She often accompanied the Late Coretta Scott King as she served as soloist, alongside her husband,Dr. Martin Luther King, Jr. Althea played the Organ through all of the civil rights' movement. From that organ pit at Dexter, she witnessed the horror on Dr. King's face as he received word of the Birmingham bombing, which she later commemorated in a painting and poem. From that same organ pit, she also wept at news of the untimely death of Dr. Martin Luther King,Jr, and the homegoing of the late Rosa L. Parks.
WHEREAS,         Althea received her Bachelor of Arts Degree, and her Master's Degrees from Alabama State University in both Music and Art, and taught at Alabama State University, and in the Montgomery Public School System for many years. She also taught at Lomax Hannon Junior College and participated in many workshops at Alabama State University, The University of Alabama, and others. Althea Thompson Thomas has owned and operated a music studio, House of the Arts and Thompson Legacy Studio, for more than forty years which teaches Art, and Music to children and adults alike. She also sponsors the Musical and Artistic performances of her students at various venues including the Montgomery Museum of Fine Arts and Dexter Avenue King Memorial Baptist Church.
WHEREAS,        Althea Thompson Thomas is also a prolific composer of Music, both orchestral and choral. She has composed hundreds of piano scores for Piano pedagogy and for church celebrations. She is the author of several  Bible teaching supplements  and continues to write poetry and prose. She has exhibited her artwork across the county including Durham, North Carolina and Washington,D.C. Most recently, she had a show of her paintings,along with live teaching and narration at the Rosa Parks Library at Troy State University in Montgomery, Alabama.
WHEREAS,         Althea Thompson Thomas is the wife of Wiley Thomas, Jr.,and the mother of six children, seven grandchildren, and one great grandchild. She continues to spread her love of music through them, and in the many, many others that she teaches, daily.  Music is her passion and teaching young and old to perform is her successful life's work. We celebrate her continued commitment to the cultural Development of all people.
Be It Resolved That,
On this 26th day of April, 2015, that this resolution be spread at length upon the journal of this day to endure a lasting record of respect and appreciation and that a suitable copy be presented to ALTHEA THOMPSON THOMAS as an expression of appreciation for all of her service to the Civil Rights Movement, her quiet courage, love of children and service to the Community and the nation.
Elaine E. Steele, Co-founder         Anita Peek, Executive Director